Today I finally received a new laptop (HP Elitebook 8760W) which is on the Citrix XenClient HCL. Due to a 'small' primary SSD disk (160GB) I exchanged the cd-rom device for a additional harddisk, to store additional virtual machines. Without the cd-rom drive I had to install Citrix XenClient 2.1 with a bootable USB Key. Creating a bootable USB Key was pretty straight forward:
Download Universal USB Installer
Download Citrix XenClient 2.1 ISO
Start Universal USB Installer

Step 1: Try Unlisted Linux ISO (New Syslinux)
Step 2: Select the XenClient ISO
Step 3: Select your USB Key
Step 4: Select Format Drive
Step 5: Hit Create !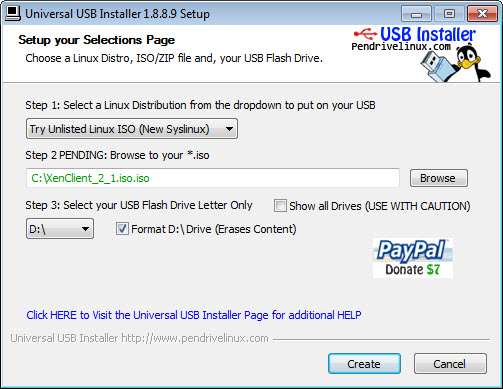 The next step in installing XenClient is to ensure that your computer has the correct BIOS settings. As a general rule, please ensure that:
SATA is set up to use AHCI mode.
Intel (R) Virtualization Technology is enabled.
The Intel (R) VT-d and VT-x features are enabled.
Trusted Execution Technology (TXT) and the Trusted Platform Module (TPM) are disabled (TXT and TPM support is available in the XenClient XT product).
To Prepare an HP Device for Installation:
Press Esc and then F10 while the machine is booting to enter BIOS setup.
Set System > System Configuration > Virtualization Technology > Enabled.
Set System > System Configuration > SATA Device Mode > AHCI.
Set System > System Configuration > TXT Technology > Disabled.
Press the WiFi icon so it changes color from red to blue.